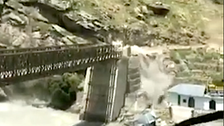 Mobile phone video captures the dramatic Sunday moment when rocks began to fall from a mountainside in India's Sangla Valley, triggering a fatal landslide that killed at least eight tourists.
Tourists from Delhi and their drivers were killed when a boulder crashed into their minibus in the northern state of Himachal Pradesh, reports The Indian Express.
Two of the 11 people in the car escaped, being injured.
The Indo-Tibetan Border Police (ITBP) detachments rushed to a site near the village of Badseri, Kinnaur to conduct a rescue operation. 9 out of 12 people who were traveling in the traveler died. In this case, three people were injured, including a local: ITBP#HimachalPradesh pic.twitter.com/xlP9R2m0Ty

– ANI (@ANI) Jul 25, 2021