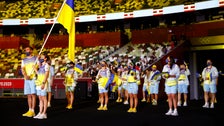 South Korean broadcaster MBC's coverage of the opening ceremony for the Tokyo Olympics on Friday went awry as it used "inappropriate" photographs and captions of countries participating in the games.
The channel caused the most outrage on Twitter after it showed a photo of Chernobyl – the site of the 1986 nuclear power plant accident – as Ukrainian athletes entered the National Stadium. Agence France-Presse reports.…
MBC also used images of pizza when representatives from Italy arrived, salmon for Norway, sushi for Japan, the Haiti riot scene, and images of the fictional Dracula for Romania. according to Reuters…
Critics have accused the network of spreading national stereotypes with their choice of images.
The greatest outrage was caused by the image of Chernobyl.
Today is the day that Korean news network MBC used Genghis Khan and Chernobyl to represent countries at the Olympics. Jeeeeeeeez do better guys! pic.twitter.com/vxqUU4Tknl

– Ceri 🏴󠁧󠁢󠁷󠁬󠁳󠁿🇪🇺🇰🇷 (@cerikim_) Jul 24, 2021
MBC used a photograph of Chernobyl to represent Ukraine. MBC regularly exposed their cultural illiteracy, and this is so embarrassing! pic.twitter.com/g6vIIYvX2P

– Jay Lim 🇰🇷 임병준 (@aQuoteAday) Jul 24, 2021
"In today's broadcast of the opening ceremony, inappropriate photographs were used to represent countries such as Ukraine and Haiti," MBC said in a statement. by New Zealand Herald… "Also inappropriate photos and subtitles for other countries were used. We apologize to the audience of Ukraine and other countries. "