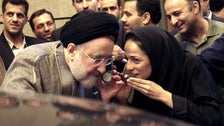 NEW YORK (AP). An Iranian intelligence officer and three alleged members of an Iranian intelligence network were accused in Manhattan of conspiring to kidnap a prominent Iranian opposition activist and writer in exile and return her to Tehran, authorities said Tuesday.
A Manhattan federal court indictment alleges the conspiracy was part of a broader plan to lure three people in Canada and a fifth person in the United Kingdom to Iran. The victims have also been targeted in the United Arab Emirates, authorities said.
The identities of the alleged victims were not disclosed, but Masih Alinejad of Brooklyn confirmed that authorities told her she was among the victims.
"I knew that this is the nature of the Islamic Republic, you know, kidnapping, arresting people, torturing people, killing people. But I couldn't believe that this would happen to me in the United States of America, "Alinejad told The Associated Press.
Iran's UN mission did not immediately respond to a request for comment. State media in Tehran did not immediately acknowledge the alleged conspiracy, although Iran has become more aggressive in recent years with arrests of opposition journalists and dissidents abroad amid tensions over its ragged nuclear deal.
She is a prominent figure on foreign satellite channels in Farsi that are critical of Iran and has worked as a contractor for the US-funded Voice of America Farsi network since 2015. She became a US citizen in October 2019.
As part of her White Wednesday and My Hidden Freedom campaigns, women in Iran have publicly filmed themselves without a headdress or hijab, which could lead to arrests and fines. The details in the indictment are also consistent with Alinejad's biography.
Alinejad said the authorities came to her last year and said they were watching her, including taking pictures of her house. She said that she has since lived under the protection of the US government, including time spent in various shelters. She also said that the FBI once asked her to conduct an online live video to see if Iranian intelligence could track her.
Despite not being charged with conspiracy to kidnap, Nilufar Bahadorifar, also known as Nelly, was arrested on July 1 in California on charges that she provided financial and other services to the United States for Iranian residents and organizations, and some financial services supported the conspiracy and violated sanctions against Iran. , according to the prosecutor's office.
The indictment says the 46-year-old Bahadorifar from Iran works in a California department store. Bahadorifar's lawyer, assistant federal defender Martin Cohen, declined to comment.
According to authorities, Bahadorifar pleaded not guilty to the charges brought against her at the time of her arrest and was released on bail. She still faces a surrogate charge on Tuesday.
Authorities said the remaining defendants are fugitives, allegedly based in Iran.
"Among the most cherished freedoms of this country is the right to express one's opinion without fear of government reprisals," said US Attorney Audrey Strauss. "A US citizen residing in the United States must be able to defend human rights without being attacked by foreign intelligence officers."
"Everyone in the United States must be free from harassment, threats and physical harm from foreign authorities," added Acting Assistant Attorney General Mark J. Lescaut. "In this indictment, we uncover one such disastrous conspiracy to harm an American citizen who has exercised his First Amendment rights."
William F. Sweeney, Jr., head of the New York office of the FBI, noted that the indictment was a bit like "some contrived plot of the film."
"We claim that a group backed by the Iranian government conspired to kidnap an American journalist here on our soil and forcibly return her to Iran. Not on our watch, "he said.
An Iranian intelligence officer who remains a fugitive has been identified as Alireza Shahvarogi Farakhani.
According to the indictment, 50-year-old Farakhani and three other defendants have tried to kidnap Alinejad since at least June 2020. If caught and found guilty, they face life imprisonment.
The indictment alleged that Farakhani and the network he led several times in 2020 and 2021 lied about his intentions, hiring private detectives to monitor, photograph, and videotape Alinejad and her family members. It says the surveillance included high-definition live video of the activist's home.
The indictment alleged that the Iranian government in 2018 tried to lure her into a third country so that a takeover could be possible, even offering money to her relatives to try and make it possible. The indictment stated that the relative had refused the offer. Alinejad's family has been targeted by the Iranian government, according to a separate lawsuit filed by an activist in the United States.
Other accused of conspiracy to kidnap were identified as Mahmoud Hazein, 42, Qiya Sadeghi, 35, and Omid Nuri, 45, all from Iran.
According to the indictment, Sadeghi has investigated a service offering military-style speedboats that could carry out a naval evacuation from New York that would eventually reach Venezuela, whose government has friendly relations with Iran.
Hazein reportedly researched travel routes from Alinejad's home to the coastal area in Brooklyn and her residence's location in relation to Venezuela and Tehran.
Alinejad said the conspiracy would not stop her from her activities.
"I only have one life, and I'm not going to live in paranoia. I'm not going to live in fear, "she said. "I have two options – to feel unhappy, to make my oppressors feel unhappy, so I choose the second."
Associated Press author John Gumbrell from Dubai, United Arab Emirates contributed to this report.
To all HuffPost fans!
Sign up for a membership to cofounder and help shape the next chapter of HuffPost.