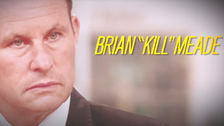 "Daily show with Trevor Noah"The severed right is advancing COVID-19 inoculation skepticism with Death Wish parody trailer.
The fake video titled Death Wish: Arriving at an Unventilated Cinema Near You features excerpts from Fox News personalities and GOP legislators who have raised doubts about vaccinations that have proven to be very effective in preventing serious infection.
"In a world where the nanny state promotes effective vaccines, one vigilante gang is all that stands between America and herd immunity," says the narrator.
"Who needs vaccines this summer when you have the will to die?" the voiceover continues.
"They are cleaning the streets so COVID can spread safely."