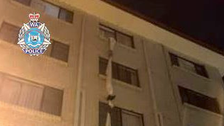 A man from Australia allegedly made a homemade rope out of bed sheets to escape from a hotel room on the fourth floor, where he was supposed to be in quarantine.
The 39-year-old man made a dangerous escape from a hotel in the Perth suburb of Rivervale at about 12:45 pm on Tuesday. He remained at large for eight hours before the police found him. He was charged with not following instructions and providing false or misleading information.
Western Australia police have shared pictures of the stunt on Facebook:
The man, whose name has not been released, was ordered to "temporarily quarantine overnight" after he failed to comply with the state's strict border regulations in connection with COVID-19. He recently flew in from Brisbane.
It is unclear why the man ran away from the hotel. He later tested negative for COVID-19, police said.