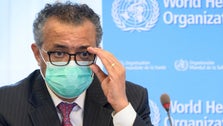 TOKYO (AP) – The Tokyo Olympics should not be judged by the number of COVID-19 cases that arise from the inability to eliminate the risk, the head of the World Health Organization told sports officials on Wednesday as events kicked off in Japan.
WHO Director General Tedros Adhanom Ghebreyesus said in his speech at a meeting of the International Olympic Committee that the methods of fighting infections are what is important.
"The hallmark of success is ensuring that all cases are identified, isolated, traced and cared for as quickly as possible, and further transmission is interrupted," he said.
The number of Games-related COVID-19 cases in Japan this month stood at 79 on Wednesday, with more international athletes testing positive at home and unable to travel.
"The sign of success in the next two weeks is not zero," Tedros said, noting the athletes who have already tested positive in Japan, including the athletes village in Tokyo Bay, where most of the 11,000 participants will remain.
Team-mates in close contact with infected athletes may continue to train and prepare for competition in isolation and additional observation.
Health experts in Japan have warned that the Olympics will turn into a "super-proliferation" event with tens of thousands of athletes, officials and workers gathering during a local emergency.
"There is no zero risk in life," said Tedros, who began his keynote speech minutes after the start of the first softball game in Fukushima, adding that Japan is "instilling courage throughout the world."
The WHO leader also had a more critical message and challenge for leaders in richer countries about a more equitable exchange of vaccines around the world.
"The pandemic is a test and the world is failing," Tedros said, predicting more than 100,000 COVID-19 deaths worldwide before the Olympic flame goes out in Tokyo on Aug. 8.
It was a "gruesome injustice", he said, that 75% of the vaccines delivered worldwide to date have been done in only 10 countries.
Tedros has warned anyone who believes the pandemic is over because it is under control in their part of the world living in a fool's paradise.
The world needs 11 billion doses next year, and WHO wanted governments to help meet the goal of vaccinating 70% of people in each country by the middle of next year.
"The pandemic will end when the world decides to end it," Tedros said. "It's in our hands."
To all HuffPost fans!
Sign up for a membership to cofounder and help shape the next chapter of HuffPost.