BERLIN (AP). At least 110 people have died in devastating floods in parts of western Germany and Belgium, officials said Friday, as rescue operations and the search for hundreds of people who are still missing continue.
German President Frank-Walter Steinmeier said he was "stunned" by the devastation caused by the flood and pledged to support the families of the victims and the cities that suffered significant damage.
"In the hour of need, our country sticks together," Steinmeier said in a statement on Friday afternoon. "It is important that we show solidarity with those who were taken away from the flood."
Authorities in the German state of Rhineland-Palatinate said 60 people died there, including at least nine people living in a nursing home for people with disabilities. In the neighboring region of North Rhine-Westphalia, authorities said the death toll was 43, but warned that the number could rise further.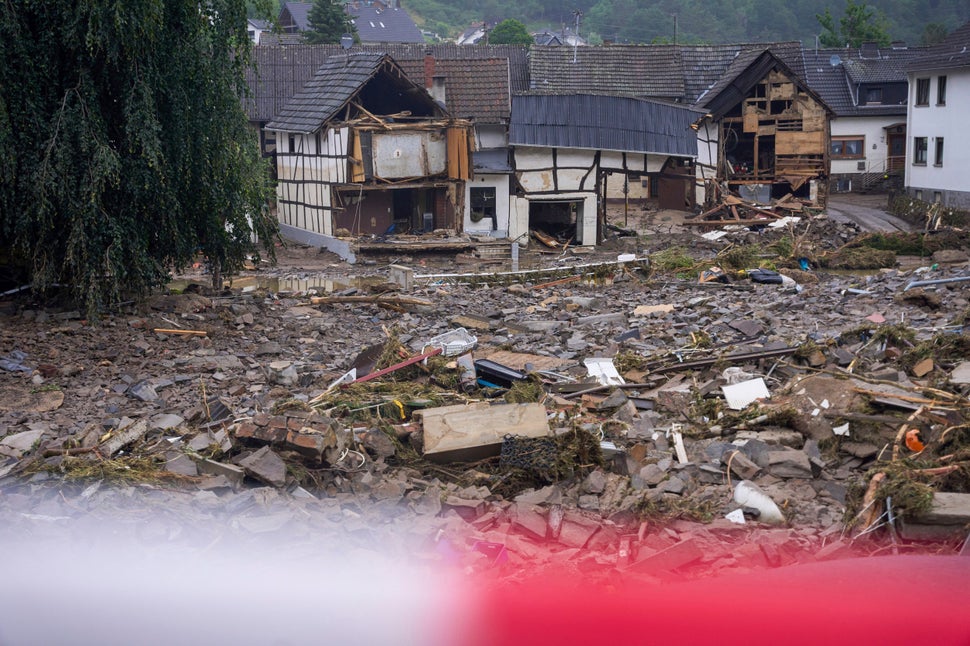 Rescuers rushed Friday to help people trapped in their homes in Erftstadt, southwest of Cologne. Regional authorities said several people died after their homes collapsed due to subsidence, and aerial photographs showed that it was a huge crater.
"Last night we were able to get 50 people out of their homes," said Frank Rock, county chief of staff. "We know of 15 people who still need to be saved."
In an interview with the German broadcaster n-tv, Rock said that the authorities do not yet know the exact number of those killed.
"We must assume that under the circumstances, some people did not manage to flee," he said.
Authorities said late Thursday that around 1,300 people in Germany are still missing, but warned that the high figure could be due to duplicate data and difficulties in accessing people due to disrupted roads and phone connections.
According to preliminary estimates, the death toll in Belgium has increased to 12, with 5 people still missing, local authorities and media reported early Friday morning.
The governor of North Rhine-Westphalia, Armin Laschet, called an emergency cabinet meeting on Friday. How the 60-year-old man handled the flood is widely seen as a test of his ambition to succeed Merkel as chancellor in Germany's September 26 national elections.
Steinmeier called for increased efforts to combat global warming.
"Only if we are determined to tackle climate change can we limit the extreme weather conditions we are now facing," he said.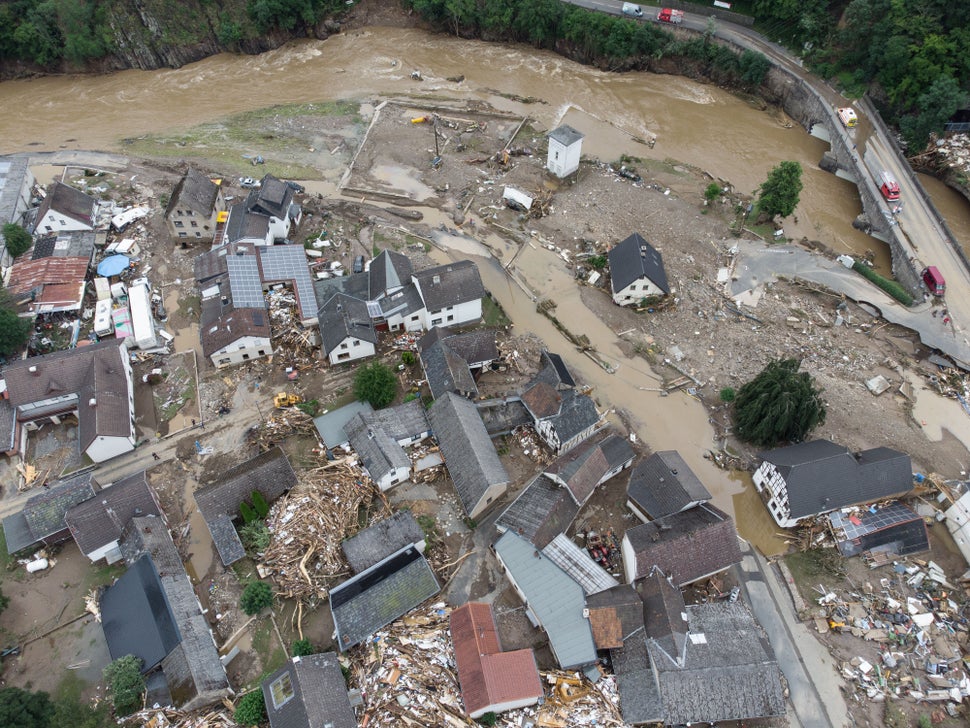 Experts say such disasters could become more frequent due to climate change.
"In parts of Western Europe … it rained up to two months in two days. To make matters worse, the soils were already saturated with previous rainfall, "said Claire Nullis, a spokeswoman for the World Meteorological Organization.
It is too early to blame the floods and the preceding heatwave for global warming and rising global temperatures, she said, but added: "Climate change is already increasing the frequency of extreme events. And global warming has been shown to exacerbate many individual events. "
Malu Dreyer, Governor of Rhineland-Palatinate, said the disaster highlighted the need to step up efforts to curb global warming.
"Climate Chance is no longer abstract. We are experiencing this up close and painful, "she told the Funke media group.
She accused the center-left allied bloc Laschet and Merkel of hampering efforts to cut greenhouse gas emissions in Germany, Europe's largest economy and a major source of warming gases.
Thousands of people are left homeless after their homes were destroyed or deemed threatened by the authorities, including several villages around the Steinbach reservoir, which experts say could collapse under the weight of the flood.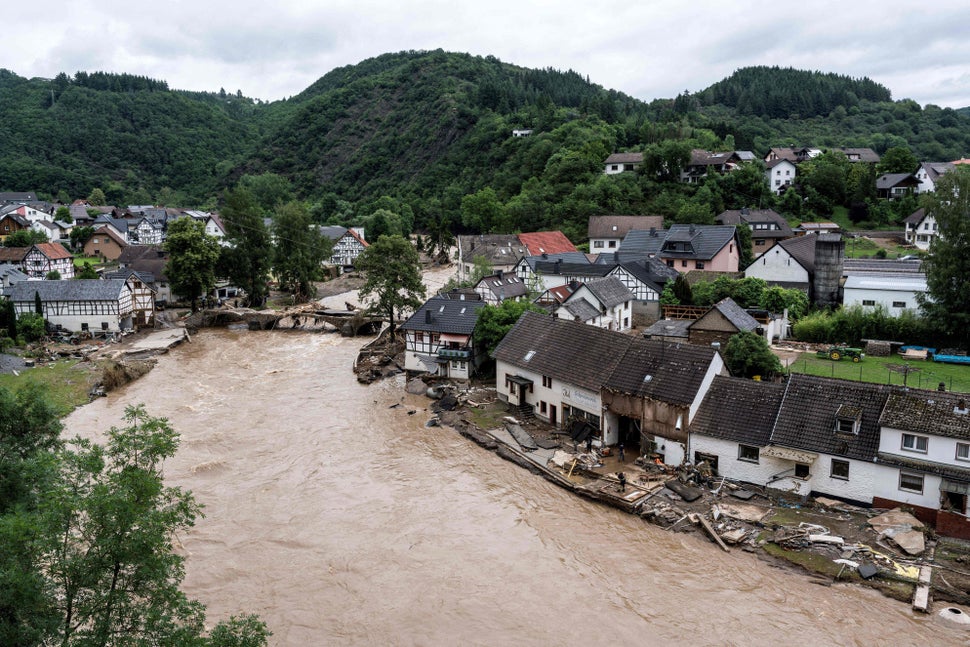 Defense Ministry spokesman Arne Collatz said that by Friday morning the German military had deployed more than 850 troops, but that the number is "significantly increasing because the demand for them is growing." He said the ministry has activated a "military distress alert," a technical move that essentially decentralizes equipment use decisions for commanders in the field.
On the other side of the Belgian border, most of the drowned were found in the raining area of ​​Liege. The skies in eastern Belgium were mostly overcast, and hopes grew that the worst of disasters was over.
Italy has dispatched a civil protection and firefighter team to Belgium, as well as lifeboats to help find missing people following devastating floods.
Firefighters tweeted a photo of one team working in Tilfa, south of Liege, to help evacuate residents of the house trapped by rising water.
In the southern Dutch province of Limburg, also hit hard by floods, troops piled sandbags to fortify a 1.1-kilometer stretch of dam along the Meuse River, and police helped evacuate some low-lying areas.
Interim Prime Minister Mark Rutte said Thursday evening that the government is officially declaring flood-affected regions a disaster zone, which means businesses and residents are entitled to compensation for damage.
Dutch King Willem-Alexander visited the region on Thursday night and called the scenes "heartbreaking".
Meanwhile, due to prolonged rains in Switzerland, several rivers and lakes overflowed their banks. Public broadcaster SRF reported that flash flooding carried away cars, flooded basements and destroyed small bridges in the northern villages of Schleitheim and Beggingen late Thursday.
Eric Schultz, mayor of the hard-hit German city of Hagen, about 50 kilometers (31 miles) northeast of Cologne, said a wave of solidarity had swept from other regions and ordinary citizens to help those affected by the devastating floods.
"We have many, many citizens saying, 'I can suggest a place to stay, where can I go to help, where can I register, where can I bring my shovel and bucket? ", – he told n-tv. "The city stands together and you can feel it."
Associated Press contributors Geir Moulson and Emily Schulteis in Berlin, Raf Casert in Brussels, Nicole Winfield in Rome, Angela Charlton in Paris, Mike Corder in The Hague have all contributed to this report.
To all HuffPost fans!
Sign up for a membership to cofounder and help shape the next chapter of HuffPost.