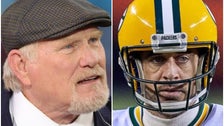 Hall of Fame player Terry Bradshaw can still throw hard – when it comes to shadow.
Fox analyst repeatedly described disaffected Green Bay Packers player Aaron Rodgers as "weak" in an interview with Moss and Maggie of WFAN on Monday. (Watch the clip below).
He also had some career advice for the 37-year-old MVP.
Pittsburgh Steelers greats said, "He doesn't need the money, so he's likely just retiring and going to do Jeopardy!"
Rodgers, who recently hosted a game show and showed interest in a perpetual party, has suspended Bradshaw due to his reported hostility with the Packers management.
Rodgers has reportedly told the organization he wanted out, and Yahoo said the elderly star threatened to retire or stay in a training camp if General Manager Brian Gottkunst stayed.
Tensions have escalated between Rodgers and Green Bay since the Packers picked up midfielder Jordan Love in the first round of the 2020 Draft. But Rodgers, who won one Super Bowl with the team, was still able to guide the group into their fifth NFC Championship match in their 16 seasons and claim a better title. A player in the league.
"Being upset shows me how vulnerable he is," said Bradshaw on Monday. "Who the hell cares that you're recruiting? I mean, he's a three-time best player in the league and he's worried about this guy who forged him last year? … and to get angry, oh my God, I don't get that."
When asked what Green Bay should do, the Super Bowl champion replied four times, "This is what I'm going to do. I'm not budging. Let him catch. Let him cry. Retire."
Summon All Superhero Fans on HuffPost!
Sign up for membership to become a founding member and help shape HuffPost's next chapter