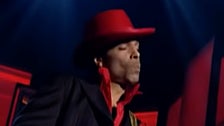 A new video clip offers a better look at the music icon Prince during one of his most memorable shows: the solo guitar that completely explodes during the all-star show of "While My Guitar Gently Weeps" at the 2004 Rock and Roll Hall of Fame induction concert.
The moment came during a tribute to George Harrison, who was previously recruited as a member of the Beatles, but was posthumously recruited as a solo artist that year. Prince, who was a recent Hall of Fame member himself, single-handedly stole the show that quickly became a career staple, and went viral on the internet after his unexpected death in 2016.
Now, Joel Gallen, who produced and directed the event, has released a new segment of the performance.
Gallen wrote on YouTube: "After 17 years of such an amazing performance by Prince, I finally had the opportunity to go in and rewrite a little bit – since there were so many clips that were bothering me." "I got rid of all the dissolves and did all the cuts, and added a lot of close-up shots of Prince during his solo show.
Also appeared in the performances are Tom Beatty, Steve Winwood, Jeff Lynn, and Harrison's son Danny Harrison.
With the song over, Prince pulled his guitar off, threw it to the crowd, then came off the stage cold with a standing ovation before the rest of his full-star band had a chance to bend.
According to Minnesota Public Radio, the ax was caught by his guitar technique, Takumi Suetsugu. In 2016, The New York Times published a behind-the-scenes report of this moment.
Although Prince didn't do much solo work during training, he told Galen not to worry about it.
"They never trained on it, really. He never showed us what he was going to do, and he left, basically telling me, the show's producer, don't you worry," Gallen told The Times. "The rest is history. It became one of the most satisfying musical moments in my history of viewing and producing live music."
Prince died of a drug overdose in 2016 at the age of 57.
In a sad irony, Prince shared the stage that night with fellow musician Betty, who would also die of a drug overdose a year and a half later. The death included the synthetic opioid drug fentanyl.
Summon All Superhero Fans on HuffPost!
Sign up for membership to become a founding member and help shape HuffPost's next chapter