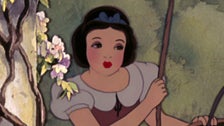 Just over two weeks after a viral editorial went viral in Walt Disney World in Florida due to its so-called "wokeness," sister park across the country is stirring up a similar rhetoric.
Disneyland in California began welcoming guests again last week after shutting down for 13 months due to the COVID-19 pandemic. As many early visitors discovered, Disney took advantage of some of the unexpected stops to revamp the Snow White's Scary Adventures ride, which was one of the attractions on the park's opening day in 1955.
The trip was renamed Snow White's Enchanted Wish, and now features enhanced special effects, new music, and an always-happy ending. Fans have applauded the promotions, but the ending – which depicts Prince Charming kneeling beside Snow White's coffin to give the "kiss of true love" and resurrecting her from the evil queen's poisoned apple, as in the 1937 animated movie – appears even more divisive.
In an article published Saturday on SFGate, managing editor Katie Dodd and writer Julie Tremin criticized the scene for depicting what they described as an insensitive kiss.
Dodd and Tremain wrote, "A kiss he gives to her without her consent, and she's asleep, and that can't be true love if only one person knows it's happening." "Haven't we already agreed that consent in early Disney movies is a major issue? Is teaching kids that kissing, when it's not proven if both parties are willing to engage, not good?"
The authors suggested that it would have been better to serve Disneyland by creating a less problematic ending that would preserve "the spirit of the movie and Snow White's place in Disney". They also cited a planned Splash Mountain park reform, a wooden stream based on the 1946 song "Song of the South" that has since been widely considered racist, as an example of an appropriate course of action.
The article sparked mixed reactions on social media.
After Fox News learned of the article, the network suggested that "Snow White and the Seven Dwarves" are at risk of "being canceled." According to The Daily Beast, Fox News referred to attraction at least nine times, and Fox Business reported it five more times on Monday alone. Meanwhile, Fox Business digital website published an article in response to SFGate's article on Sunday.
"If you look at an accurate representation of a snow egg, it was poisoned and that kiss saved her life," Fox News host Todd Burrow said. "So for those two people who wrote that story, if you were sick and someone needed CPR on you, would you be upset about consent? No, you wouldn't have a choice about that."
He continued, "Young girls can grow up to be princesses and presidents." "Let's keep that in mind – the corporate heads – but they can also have this part of their youth. And I don't think anyone looks at Prince Charming's kiss of Snow White and says, Boy, it's a microcosm of the rape dating culture in college."
Disney did not respond to HuffPost's request for comment on the controversy.
Interestingly, Snow White's Enchanted Wish has historically divided visitors to Disneyland. Before the 2021 revamp, the Evil Queen was the focal point of the attraction, often scaring young children and angering their parents.
The controversy over the current incarnation of the Orlando Sentinel theme park and the Tampa Bay Times follows the publication of a column of Disney fans that vehemently ridiculed it accusing the company's Florida parks of "spoiling the experience" with "vigilance."
"Parks are less fun because indulgences, so fun takes a back seat to politics," wrote Jonathan Fanbuskirk, referring to recent updates on Disney World Pirates of the Caribbean, as well as a comfortable dress code for newly employed employees. "Next time I ride Jungle Cruise, I won't think of the skipper's entertaining pun, I'll think of Disney's political agenda. This is a mood killer."
Summon All Superhero Fans on HuffPost!
Sign up for membership to become a founding member and help shape HuffPost's next chapter