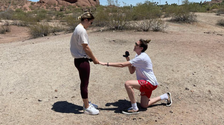 WNBA star Breanna Stewart passed The Rock on to her teammate.
The former league's best player announced on Sunday that she is engaged to her friend Marta Zargay, a Spanish basketball professional.
Pictures of Stewart wearing a bent knee presenting the ring accompanied the caption on Instagram: "I did something. Another episode. She said yes."
Stewart was referring to two episodes of the tournaments she won in the WNBA with the Seattle Storm, including last season. (She was also the best player in the finals for the second time.)
Xargay, listed on the WNBA's Phoenix Mercury pre-season roster after a previous stint with the team, wrote in Insta: "Life isn't just about moments, it's about who we share it with!
I said yes. "
The two were teammates at Dynamo Kursk 2018-19.
Stewart missed the 2019 WNBA season with a torn Achilles tendon, but UConn alum made a strong comeback on the field. You will likely represent the US women's team at the Summer Olympics in Tokyo, too.
It looks like she won on the field, too.
The Storm tweeted mentioning its ring