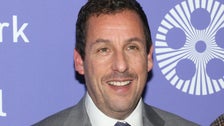 Adam Sandler's response to the entire IHOP failure could be worse than the viral video.
Last week, she posted on TikTok, Dayanna Rodas An alleged security footage of the "Hubie Halloween" star entering the pie house wearing a face mask with one of his daughters next to him.
Rodas, who says she is the hostess talking to Sandler in the security footage, says she told the comedian the wait would be 30 minutes, prompting Sandler to leave.
"Please come back," Rodas commented on her TikTok site. "Not realizing Adam Sandler and telling him there's a 30-minute wait and he's leaving BC isn't going to wait 30 minutes for IHOP."
A publicist for "Billy Madison" star confirmed to HuffPost that he was Sandler in the footage but did not provide further information.
Well, it looks like the former "Saturday Night Live" cast member is now giving more information about the encounter itself – just in Sandler's true fashion with a big joke.
"For the record, I quit IHOP only because the nice woman told me that the all-you-can-eat deal doesn't apply to milkshakes," Sandler wrote on Twitter on Monday.
Some Twitter users gutted Sandler's post as a group from Rooty Tooty Fresh 'N Fruity:
Here he hopes Sandler is filling up on milkshakes somewhere, and celebrate a little like this:
Summon All Superhero Fans on HuffPost!
Sign up for membership to become a founding member and help shape HuffPost's next chapter