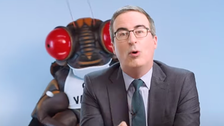 John Oliver's clip about vaccine hesitancy on Sunday criticized skeptic Tucker Carlson, calling it "extremely widespread". (See the full section below).
The host of "Last Week Tonight" featured a montage of Fox News' character raising fear about the footage in the form of questions with reassuring, verifiable answers.
"It's really weird to see someone hosting a show on a supposed news network, and end each sentence with a question mark," Oliver said. "Especially when the answers to most of these questions are available to anyone interested in knowing them."
Oliver then focused on a clip from Carlson's presentation in which he expressed doubts about the Centers for Disease Control and Prevention's inner mask guidelines for people being vaccinated. Carlson said in a conspiratorial tone: "So it might not work and they simply don't tell us.
"The CDC is being cautious, and wants to make sure that it doesn't spread nonsense during a global pandemic like the Duke of Frozen Dinner with a TV show," he said. "In any case, I hope it answers at least one of your bad-intentioned questions, Tucker, you are a fearful baboon."
Oliver cited statistics showing that the United States is failing to vaccinate enough people to reach herd immunity, and that hesitant groups like Republicans need to get vaccinated more often.
"The problem is that when people like Tucker ask questions without bothering to answer them, there is a lot of misinformation that people can find afterward," said Oliver. "Vaccine groups are waiting for a moment like this to spread suspicion."
The HuffPost Guide to Coronavirus
Summon All Superhero Fans on HuffPost!
Sign up for membership to become a founding member and help shape HuffPost's next chapter