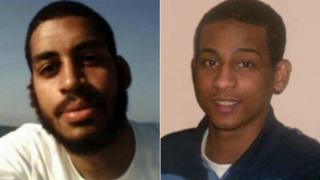 Two British men believed to be members of a notorious Islamic State group (IS) cell have been seized by Syrian Kurdish fighters, US officials say.
Alexanda Kotey, 34, and El Shafee Elsheikh, 29, were the last two members of the cell to remain at large.
The four, all from London, were nicknamed "the Beatles" because of their British accents.
US officials said the "execution cell" had beheaded more than 27 Western hostages and tortured many more.
Who were the IS 'Beatles'?
The US state department says the four-man cell was responsible for beheading several Westerners. They are:
Mohammed Emwazi – dubbed Jihadi John, beheaded a number of Western hostages on video. The west Londoner was killed in a drone strike in 2015 in Raqqa, the former de facto IS capital in Syria
Aine Davis, also from west London, was convicted of being a senior IS member and jailed in Turkey last year
Alexanda Kotey, another west Londoner, took part in the torture of hostages, the US State Department says, and also acted as a recruiter for IS
El Shafee Elsheikh "earned a reputation for waterboarding, mock executions, and crucifixions" while serving as the cell's guard, the US state department says
The alleged ringleader of the group was Emwazi who was killed in an air strike in Syria in 2015. He was the masked militant who featured in gruesome IS videos, taunting Western powers before beheading hostages.
Aine Davis was jailed in Turkey last year on terrorism charges, after being arrested near Istanbul in 2015.
Victims who appeared in those videos included British aid workers David Haines and Alan Henning, US journalists James Foley and Steven Sotloff, and American aid worker Peter Kassig.
How were they captured?
The latest arrests were confirmed by US officials.
Officials quoted by US media said the two men had been captured by members of the US-backed Syrian Democratic Forces (SDF), who are targeting remnants of IS.
The UK Foreign Office, meanwhile, said it did not comment on individual cases or investigations.
Their capture was first reported by the New York Times, who noted that American officials had wanted to keep the news secret.
The aim was "to allow analysts more time to pursue the intelligence leads developed from their detention and prepare raids against unsuspecting Islamic State targets", the newspaper said.
The Syrian fighters who apprehended them told US officials in mid-January that the two may have been captured, and the men's identities were later confirmed using fingerprints and other biometric data.
What is the state of IS in Syria?
The Islamic State's group self-declared caliphate – its area of control – shrunk rapidly last year.
In October, the group lost its "capital" of Raqqa to the SDF. In the beginning of November, it lost Deir-al Zour in Syria on the same day as it lost al-Qaim in Iraq.
The SDF is an alliance of Kurdish and Arab fighters opposed to IS. The US-backed group has played a key role in driving IS from its strongholds in Syria.
The US has said it aims to maintain an open-ended military presence in the country to ensure the jihadist group's defeat.
However, the presence of large numbers of Kurdish armed forces in northern Syria has alarmed neighbouring Turkey.
Syria war: Last of British IS 'Beatles' gang captured by Kurds