New Delhi (AFP) – As Indian hospitals struggle to secure a steady supply of oxygen, and more COVID-19 patients die amid shortages, a court in New Delhi said it will begin punishing government officials for failing to deliver life-saving items.
On Sunday, India recorded a slight decrease in new infections, with 392,488 from a high of 401,993 in the past 24 hours. It also reported 3,689 additional deaths, bringing the total to 215,542 deaths. Experts believe that both figures are underestimated.
The government is using railways, the air force and the Navy to quickly transport oxygen tankers to the hardest hit areas as overcrowded hospitals cannot handle an unprecedented increase in the number of patients scrambling for air.
SCL Gupta, director of Patra Hospital, said 12 patients with COVID-19, including a doctor, died on Saturday in a hospital in New Delhi after supplies ran out for 80 minutes.
The Times of India reported that another 16 deaths were reported in two hospitals in the southern state of Andhra Pradesh and six in Gurgaon Hospital on the outskirts of New Delhi due to lack of oxygen.
With the government unable to maintain a steady supply of oxygen, many hospital authorities sought judicial intervention in the Indian capital as the lockdown was extended by a week to contain the wave of infections.
"The water has gone over the head." The New Delhi High Court said, "Enough is enough," adding that it will start punishing government officials if the oxygen supplies destined for hospitals are not delivered.
"There can be no people who die," Judges Vipin Sanghi and Rekha Patil said.
The court said it would begin contempt proceedings.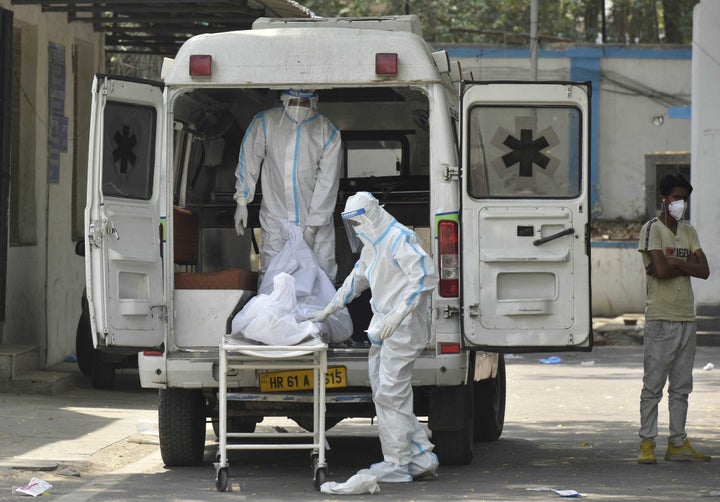 New Delhi recorded 412 deaths in the past 24 hours, the highest since the start of the epidemic.
The army opened its hospitals to civilians in a desperate attempt to bring the massive humanitarian crisis under control. The government of Prime Minister Narendra Modi has also granted emergency financial powers to the military, to establish new quarantine facilities and hospitals, and to purchase equipment.
The army has also recalled 600 doctors who have retired in the past few years. A government statement said the Navy had deployed 200 nurse assistants to civilian hospitals.
India said on Saturday that all adults 18 years of age or older could get shots. Since January, nearly 10% of Indians have received a single dose, but only about 1.5% have received both, even though the country is one of the largest vaccine producers in the world.
India has so far provided more than 156 million doses of the vaccine. Some states have already said they don't have enough for everyone, and even ongoing efforts to vaccinate people over the age of 45 are fading.
The United States, Britain, Germany and many other countries are rushing rapid treatments and tests for the virus and oxygen to India, along with some materials for India to boost its domestic production of COVID-19 vaccines.
Summon All Superhero Fans on HuffPost!
Sign up for membership to become a founding member and help shape HuffPost's next chapter