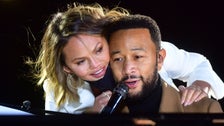 John Legend gave fans insight into what happened behind the scenes when his wife Chrissy Teigen left Twitter earlier this year, only to return to the social media platform a few weeks later.
The "All of You" singer, who appeared on the final episode of the "People Every Day" podcast, has been candid about the scrutiny that he and his wife face as celebrities. Teigen, a model and cookbook author, helped Legend realize that "it's harder for women" on social media than for men, he said.
"There is a lot of scrutiny in the way they look, and people feel more comfortable with them than they do with men," Legend explained. "Just seeing the difference between the way I treat and the way Chrissy does."
He said leaving social media can bring relief, but that it is not without consequences because you "want to get a reaction".
"Much of Chrissy's career has been based on her interactions with people, getting to know and introducing her to her audience," Legend said. "It doesn't want to shut itself down, but at the same time, it can be toxic at times."
He continued, "Obviously, Teigen has left Twitter for some time, thinking that might be the answer."
He added with a laugh: "But she realized that she missed it a lot."
Teigen announced on Twitter in March that she would be parting with millions of her followers.
"For more than 10 years, you guys have been my world. I honestly owe a lot to this world that we created here. I really consider many of you my true friends," she wrote. "But it is time for me to say goodbye. It no longer serves me positively because it serves me negatively, and I think this is the time to call something up. I've always been portrayed as the strong girl who claps back but I'm not."
Less than a month later, Teigen is back on the platform. She wrote, "It turned out to be scary to shut up and no longer enjoy randomly faint laughs all day and lose like 2,000 friends at once."