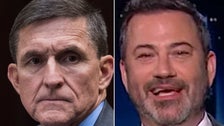 Late Night Host Jimmy Kimmel mocked Michael Flynn for an embarrassing moment over the weekend.
Flynn, who briefly served in 2017 as a national security advisor to then-US President Donald Trump and ultimately pleaded guilty to lying to the FBI about its contacts with Russia, struggled with a pledge of loyalty at Sunday's event.
He began "pledge allegiance to me," adding an additional word. To the flag of the United States of America.
Then he uttered a word that sounded like "individual" but could have been "indivisible," a word that comes much later in the pledge, before surrendering and allowing the public to take on the task to the end:
"Only the best of people," Kimmel mocked after playing the clip. "I bet he knows the Russian pledge."
Flynn eventually withdrew his guilt and was pardoned by Trump last year.
See more about Flynn, Trump, and Senator Mitt Romney (Utah), who faced his own problems in a live event over the weekend, in Kimmel's Monologue Monday night:
Summon All Superhero Fans on HuffPost!
Sign up for membership to become a founding member and help shape HuffPost's next chapter