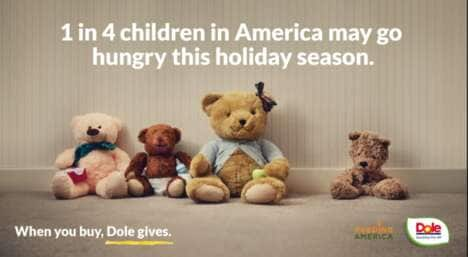 Dole Packaged Foods recently launched a heartfelt new initiative to showcase and change the harsh reality of childhood hunger, appropriately called #UnstuffedBears. 1 in 4 children in America are expected to go hungry this holiday season, and in an effort to drive awareness of this growing hunger gap, Dole Packaged Foods is raising funds and donations for Feeding America.
"According to the UN World Food Programme, the impact of COVID-19 may double the number of people suffering from acute hunger. This exacerbated food insecurity crisis is acutely affecting children around the globe and in our own backyards," said Pier Luigi Sigismondi, Worldwide President, Dole Packaged Foods. "Acting on our Promise to bring food and support to those in need, as well as raising awareness of this growing crisis, is at the center of this campaign. And this is just one of many steps we are taking to make a change for the better."
The initiative is part of the brand's commitment to 'The Dole Promise,' a larger mission with the hope of providing sustainable nutrition for 1 billion people by 2025.
Image Credit: Dole Packaged Foods