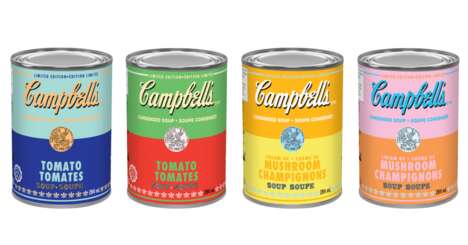 A tribute to Andy Warhol's iconic soup art that first appeared 60 years ago, Campbell Canada has joined the Andy Warhol Foundation to launch four limited-edition soup boxes reminiscent of Warhol's iconic pop art. A tribute to Warhol's original options, poster designs will be available at Campbell's Intense Cream of Mushroom Soup and Tomato Flavors.
"We are very excited to collaborate with the Andy Warhol Foundation on this Pop Art initiative and celebrate the enduring and inspiring relationship Andy Warhol has forged with Campbell Soup," said Micah Burns, Vice President of Marketing at Campbell Canada. "Special Edition soup cans remind us that there is joy, warmth and light that can be found in the simple things around us. We are looking to bring this concept to life through our campaign by sharing examples of realistic pop art inspired by cans – there are always new and innovative ways Through it we can brighten our days. "
The new initiative follows the philosophy of making art accessible to everyone and brightening one's day in a simple way – through a vibrant use of color. Local creators and artists took inspiration from Warhol-inspired boxes to create their pop artworks that can be found on social media by following the hashtag #CampbellsxWarhol.