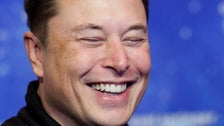 "Saturday Night Live" cast member Chris Reed cast some cunning shade at big-headed Elon Musk on Saturday as Tesla CEO mused on Twitter about his sheer size. Coming debut Host the program next weekend.
"Put some theatrical ideas for SNL," Musk wrote in a tweet. "What should I do?"
Reid replied, "First, I'll call them sketches," and that's what they are.
Others on Twitter were more vicious.
Musk may be in need of all the help he can get for his appearance on "SNL" – especially since the members of the comedian cast don't seem particularly excited to be appearing with him next Saturday. That can leave the awkward but lifelike billionaire hanging out to dry.
Bowen Yang and Bryant's hands in particular shed a bit of mockery on social media. After Musk tweeted, "Let's find out how to really live Saturday Night Live," Yang shouted, "What does this curse mean?"
Bryant posted on Instagram a quote from Senator Bernie Sanders (I-Vt.) About the "moral obscenity" of the wealthy.
Author Andrew Dismukes posted on Instagram: "The only CEO I want to sketch with is Cher-E Oteri," pictured with "SNL" alum Cheri Oteri.
Weekend Update anchor mocked Jimmy Fallon earlier this week that he hoped the billionaire would stick to the "SNL" tradition of hosts to award "$ 2 million" to the cast members. Che said, however, that he was "excited" to meet Musk.
The cast members will reportedly not be forced to appear with Musk fi not wanting to.
A source told Page Six in the New York Post, "Historically speaking, if a cast member is unhappy that much, they shouldn't do it." The source added that SNL President Lorne Michaels "will not make them do anything that they do not want to do."
Next Saturday's musical guest is Miley Cyrus.
Summon All Superhero Fans on HuffPost!
Sign up for membership to become a founding member and help shape HuffPost's next chapter